2016 Fiction Contest Winner: Swinging by Kaylee Tuggle Matheny

Jun 06, 2016 03:00PM, Published by Jake Gentry, Categories: Arts+Entertainment, In Print, Today
---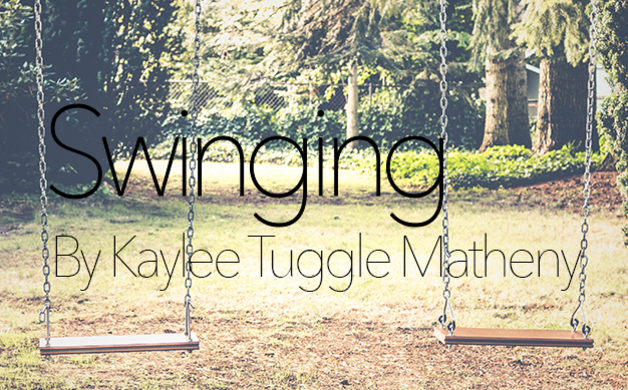 ---
---
In July of 2015, we announced our second fiction contest. Out of dozens of entries, we selected the following winners. Read the winning stories in Kitchen Drawer throughout 2016.
First Place: "Swinging" by Kaylee Tuggle Matheny
Second Place: "Patchwork Heart" by Tiffani Long
Third Place: "Zero Visibility" by Michael Downing
Fourth Place: "The Last Hunt" by Lewis Brewer
Swinging
By: Kaylee Tuggle Matheny
You have to start somewhere. That's what Marco told himself, over and over again, hoping that the following iteration would carry more hope than the former. It never did. Still, he had submitted his résumé to every business that might possibly want the help of a 16-year-old boy who looked about as useful as a newborn fawn: all lanky arms and legs, unsure of himself, with only a crooked smile as his recommendation. Surely nobody would have any openings for someone like that. But, "You have to start somewhere," his mother had told him. So that was what he'd do.
Marco had already run out of the 10 résumés he'd printed at the local library, and he didn't see himself getting any more copies until the "nicer" (less watchful) librarian went in the next day. His hunt was over today, then. Still–somewhat to delay the inevitable disaster of English homework, but more so to check on his sister–he took the long way home, walking an extra five blocks to make sure he passed the park his little sister had recently begun playing in. It wasn't much of a park, honestly. Its two tennis courts with weed-sprouting cracks in the concrete, its rusting monkey bars, and its creaking swing set were more ominous than inviting, but at least his sister had somewhere to go after school. Their mom didn't get out of work until later in the evening, and Marco couldn't always come home right away. Today, for example.
He had to get past the tennis courts before reaching the playground, but he heard her long before he saw her. Her spirit was like that, so much larger than that of any other third-grader he knew, her voice persistently high and bubbly. "Where are we going?" she asked someone.
He heard a little girl respond, but he couldn't make out the words. Walking along the towering fence, he kept listening for his sister, but she was quiet. Before she said anything else, the other girl spoke again: "You and your stupid ponytail…and your stupid glitter shoes, you can't come."
She couldn't have been any older than his sister, but the girl's little voice, sharp and biting, made his stomach twist. He rounded the corner of the tennis courts and saw a group of little girls, two uncertainly stationed behind a third, who must have been the speaker. Her dark brown curls seemed like natural extensions of her pout, and her lashes surrounded dark, narrowed eyes. His sister looked similar, with her thin brown hair pulled up out of her face, her warm brown eyes–she was facing away from him, but he knew them by heart. Even their coats were similar. Both pink, though his sister's was a little puffier and a little less bright. The girls could have been sisters, really, were it not for a few minor details.
But they weren't sisters. From the looks of it, they weren't even friends. Marco glanced around for Anna, the girl who always watched the neighborhood kids in the park on weekday afternoons, but she was sitting on a bench some distance away, texting.
His sister's voice brought his attention back to the scene in front of him. She dug the toe of her brand new Disney princess sneakers, shoes she'd wanted for months, into the soft dirt. "I thought you liked glitter shoes."
"We only liked them when I wore them." The girl flipped a curl over her shoulder. "Sorry. Maybe another day."
The girl then motioned for the two other third-graders to follow her, and Marco's sister remained, staring at the imprints the girls' shoes had left. After a few painful, weighted seconds, she dragged her feet to the closest piece of playground equipment and pulled herself into a swing.
Marco waited for her to start swinging. He waited for her swinging instincts to take over, for her to forget everything that had just happened. She swung her legs a bit, inspiring a little movement, but nothing with enough kick to really swing. Mostly, she just sat there.
He could not watch anymore. Instead, he broke into a run, trying to put as much distance between himself and the park as possible. He was at his home and up the sagging steps in what felt like seconds, and he hoped that he, at least, might be able to forget, even if she couldn't.
English homework was as much of a disaster as he'd expected. He tried reading Great Expectations, he really did, but getting through three lines of a book and promptly falling asleep was a pattern he'd developed many nights ago. Before he knew it, his mom was home, and it was time to set the table for dinner.
The kitchen felt like a warm, wounded place. Marco was never in it unless his mother was cooking or the three of them were eating dinner. The light fixture could have held three bulbs, but it had only one dim one. There was a sallow glow on everything.
"Marco," his mother said, grabbing a towel from the kitchen counter, "poke your head out the door and see if your sister—"
The front steps creaked, and his sister appeared at the threshold, looking no happier than she had on the swings. She kicked off her shoes and left them lying in the doorway.
"Haley, those don't go there," their mother said, raising an eyebrow as she placed a dish on the wobbly wooden table. It was an heirloom from her mother's mother, which basically meant most of the finish had come off and the screws holding it together seemed fewer in number every day. For as long as his memory served, Marco could remember eating dinner on nothing else. 
Haley seemed not to hear her, choosing instead to go straight to her room. Marco saw then how his mother wilted, how her eyes glazed with something more broken than sadness, and he realized it was the first time he had looked at her all night. The first time he had looked at her in a long time. He knew what her smile looked like, how the wrinkles around her eyes and mouth softened and seemed to smile, too, but he could not remember the last time he'd seen it happen. The wrinkles had to have been shallower, then. Now they looked as deep as cracks in the sidewalk, the curves dark and unyielding, strained from setting.
Marco did not know if he had a right to look at his mother like that and turned away, ashamed. She did not notice, though. She placed a hand on the kitchen table and breathed, appearing unsure of whether to pursue her daughter or to ignore her. Then she sank into a matching antique chair.
 He once again felt out of place without knowing what to do about it. He wanted to comfort his sister, to reassure his mother, to give space to himself. He wanted so many things that his wants exhausted him, and he excused himself and went to his room.
You have to start somewhere.
Indeed he did. Marco grabbed a piece of notebook paper from his binder and began drawing a crude map of his hometown, placing X's over places at which he'd already applied. If it was within walking distance, he'd apply there. It was that simple.  
He would not bully third-grade girls. He could not make the other girls play with his sister. But he could make sure she had the right clothes, the right shoes, even the right hairstyle. He could make sure those girls had every reason to like her. Tomorrow, then, when he went to the library, he would print out 30 copies of his résumé. He'd knock on the door of every business until someone gave him the answer he wanted. Even if they didn't, he would find some way to convince them. He'd do whatever he had to so Haley could feel as big as her spirit, so that when she climbed into a swing, she'd feel like she could kick.
---
---
Fiction Contest winner winning entry Kaylee Tuggle Matheny Swinging
---