Home Alone by Allison Smyly

Jun 15, 2016 03:00PM, Published by Jake Gentry, Categories: Lifestyle, In Print, Today
---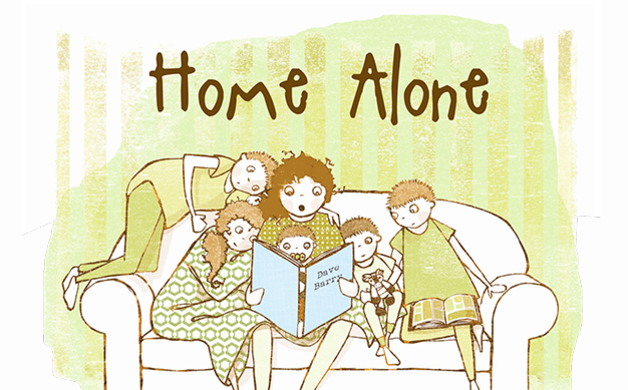 ---
---
By Allison Smyly
A few weeks ago, I had the house all to myself. My husband and three teenage daughters stayed with the girls' grandparents in Smyrna while I went home to try to untangle our health insurance options. 
Being home alone was great, for sure. After spending a few hours muttering over health insurance websites, I was able to take a long, leisurely bath (with plenty of hot water, for once), read my favorite author (Dave Barry), and then drift off to sleep without waiting to make sure everyone had made it home safely.
I can think of a time when I would have paid big bucks for a few hours like that. I'm thinking, most notably, of an afternoon in 2004, when my five-year-old and three-year-old were fighting and my youngest would NOT settle down for a nap. I finally just piled everyone into the car, strapped them into their car seats, and drove randomly around the community until they all fell asleep. I then drove back home, pulled into our driveway, and took a nap too, right there in the car.
My evening alone was nice, but at the same time, I couldn't help being a little sad, too, because I can foresee a day in the not-too-distant future when every evening has the potential to be quiet like that…too quiet, as they say in the old Westerns. 
I remember one day about 10 years ago, standing in front of our storm door with a spray bottle of Windex in one hand and a roll of paper towels in the other, preparing to once again clean tiny fingerprints off the glass. It hit me in that moment that a day would come when I wouldn't have to clean those little smudges. Sure enough, the fingerprints climbed higher on the window over the years (I didn't do a great job of teaching my girls not to touch the glass), but one day they disappeared. They finally learned.
Not too long ago, most of our laundry was pink. Now, it's mostly navy blue and black.
It has been a long time since I've rumbled through the grocery store pushing one of those cumbersome, lumbering car carts. I've been pushing a regular-sized cart for a while, and since my girls are not at home as often as they used to be, I've even been able to get a small cart a few times. These days, instead of fighting over who gets to sit in the "car" part of the cart and who has to walk alongside, now they're arguing over who gets to drive the actual car. One day, all my groceries might even fit into one of the handheld baskets, but I'm not especially looking forward to that.
Although I am sometimes in awe of the size of our grocery bill, I know it's good for me to "have" to cook supper every night, and though I occasionally grumble about it, there's even something special about helping the girls pack their lunches every morning at 6:45 a.m. Whatever creativity I can lend to the process is a small way to impact their day and connect with them at lunchtime.
Over the years, the book bags on the bench by the glass door have gotten heavier, and I know that one day, the book bags, like the fingerprints, will be gone. The older my daughters (and I) get, the more time seems to pass as it does in the movies—with the pages of the calendar being blown by the wind, turning faster and faster. It seems that one day we were finger painting and having tea parties on the picnic table outside, and the next, I was driving them to the SAT.
For now, we still have our share of chaos and noise. Sometimes we have one daughter playing piano in the living room, another playing the trumpet in a different room, and another playing her sound system upstairs. During marching band season, I love to hear my two oldest girls chattering about the day's events in the trumpet section. I enjoy listening to all of them quizzing each other on academic subjects I haven't had to think about for decades. As I type this, I'm listening to the shrill tootling of my youngest daughter playing the recorder, even though it's almost 11 p.m. I didn't even mind being rooting around in the garage a couple of hours ago to find the materials to build a model water tower, which is naturally due tomorrow, and which is why we're still awake at almost 11 p.m.
I'm going to miss having an excuse to ride the Wile E. Coyote Canyon Blaster, play Frisbee in the back yard, and watch old episodes of Monk. Not too long ago, my youngest convinced me to (finally) read Harry Potter, and I'm really glad she did. When my kids go off to college, I'll miss having them there to talk me into things I wouldn't normally do, like ziplining and climbing the rock-climbing wall at The Rock Ranch.
So for now, I'll savor my not-yet-empty nest: the last-minute trips to the office supply store to buy materials for projects that are due tomorrow, three kinds of music coming from three different rooms, my regular-sized grocery cart and hefty grocery bill, and even bleary-eyed lunch packing at 6:45 a.m. The time to read novels and take long baths, and a quiet house, will come soon enough.
---
---
Kids home alone growing up empty nest loneliness parents home
---