Beat the Heat With What You Eat!

Jul 13, 2016 04:00PM, Published by Jake Gentry, Categories: Food+Drink, Lifestyle, Today
---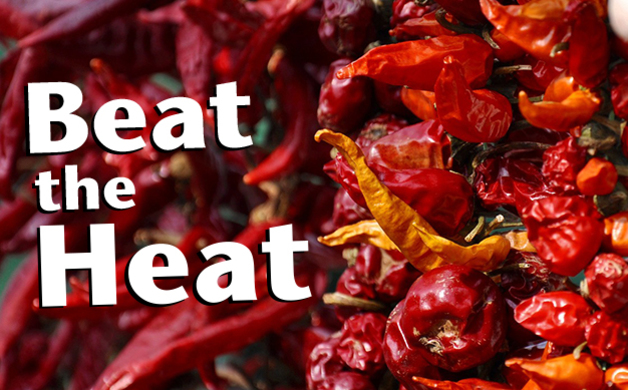 ---
---
You don't need anyone to tell you it's HOT. Don't worry about finding a sidewalk to fry an egg on, you could probably hard boil one just by leaving it uncracked on the dash of your car while you run into Walmart. There's a secret about beating the summer heat, though: fight fire with fire. That is, if you wanna cool down quick then you had better break out the spices. You ever wonder why the spiciest foods come from the hottest climates in the world? It might be because spicy food makes you sweat, and sweating cools you off.
Now, you may be of the persuasion that spicy food is just too uncomfortable to eat. Well a taste for peppers has way more benefits than just being nature's air conditioning (not to mention, you don't have to eat a whole bunch of them to get the benefits). With hot peppers you can be happier, get healthier, and maybe even live longer.
Why would someone ever prefer spicy food? The pain makes it seem like just another test to boost the egos of frat boys downing baskets of atomic wings at the local sports bar. Well it may not be so simple. Northwestern University's Helix Magazine explains that the brain releases pain-relieving endorphins and the feel-good hormone dopamine when the pain of the pepper starts to set in. Luckily, while a taste for spicy food might start to seem like an addiction, these chemical rewards aren't habit forming. They can help you form a certain kind of habit, though.
It's easy to see how a taste for hot peppers can help you lose weight when you consider their endorphin-boosting powers. Just douse that bland diet food with hot sauce or red pepper flake, and healthy eating habits are suddenly much more exciting. But did you know that making food spicier might be a way to combat harmful bacteria? A study from Cornell University posits that spices like garlic, onion, and hot peppers are more prevalent in cuisines from hot climates because they counteract dangerous bacteria. Some spices are more antimicrobial than others, but they all help when the chance of spoilage is higher due to a hot climate.
"So spices might make you feel good," you could be thinking, "they might make food safer to eat, they might help you cool off when it's hot. So what? If it hurts to eat them, even a little, I don't want anything to do with them." Well, it turns out a spicy diet could have links to a longer life.
In a study conducted by Tulane University
, 500,000 Chinese adults were surveyed over the course of seven years. Those who ate foods flavored with chili pepper every day had a 14 percent lower chance of premature death, as compared to those who ate peppers less than once per week. Futurity.org comments on the study, saying that previous studies have also drawn the same correlation with garlic, ginger, horseradish, and black pepper.
Variety is the spice of life, but you can make your life even spicier with the addition of a few hot peppers. Next time you're visiting your favorite restaurant, why not reach for the hot sauce and find out for yourself what's so great about all that heat. Who knows? You might find that a little kick was just what your meal was missing.
---
---
food happiness peppers longevity aging endorphins spicy food endorphins hot pepper endorphins hot pepper red peppers
---