Sports 8.3 - Griffin's own Speed Racer

Aug 15, 2016 04:07PM, Published by Jake Gentry, Categories: Lifestyle, In Print, Community
---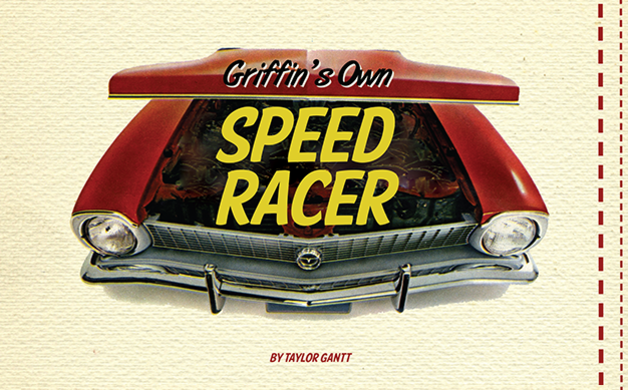 ---
---
By Taylor Gantt
Jonathan Anderson may be the fastest man in the storied history of Griffin, Georgia.
And no, we're not talking good ol' fashioned footracing. Jonathan's passion lies squarely behind the wheel of a supercharged drag racer.
"My family's always done it," Anderson said. "My father and two of my uncles raced. My uncle, David Simmons, was a former champion and one of the best there was around the Southeast."
The 35-year-old drag racer has made a big splash in the National Hot Rod Association this season, racking up a huge points lead with only a few races remaining.
"It's not over till it's over," Anderson said with a laugh. "But yeah, I'm ahead by a pretty huge amount."
Jonathan has put together an impressive 23-2 record so far this year, with only a handful of races to go before the champion is crowned. Anderson competes in the NHRA's Division 2, a group that includes racers from all across the Southeast.
His passion for drag racing was cultivated at a young age. Jonathan began dabbling in the automotive arts at age 18. "We used to take our cars out to the local tracks, beat them up a little bit, and have a good time!"
Now, Anderson is parlaying that boyhood pastime into a burgeoning career on the track. He chose drag racing above all other forms of competition because of the pure simplicity it offers. "Anybody can get into it. You can use your own car, take it to the track, and compete for money. You can't really take your own car over to Atlanta Motor Speedway and start racing there! In drag racing, it's just you and one other person on the track."
But despite his scintillating success in the NHRA, Jonathan still hasn't left his old life or career behind. He and his father operate a pair of automotive shops in Griffin. Anderson takes time away from his day job to pursue his passion, but he doesn't look at racing as an escape to stardom.
"Things are different than the way they used to be," he said. "A few people can do it full time for a living, but you need pretty big corporate sponsorships to make that happen. You used to be able to do it with just your [race winnings], but everything is so expensive nowadays."
Despite his pragmatic approach, Jonathan's star continues to shine. He's been chosen to represent Division 2 in an All-Star event in July. And if he stays on track and becomes the 2016 Southeastern Champion, his reputation will only continue to grow.
"Drag racing is really the only sport out there that gives the average person the chance to win big money," Anderson said. "It's way better odds than playing the lottery!"
When asked about some of the people who helped him make it to where he is today, two special family members came to Jonathan's mind. "My wife," he said, without hesitation. "We've been together since high school, so definitely her. And I have to also say my dad, ever since we moved to Griffin nearly 31 years ago."
If you want to catch a glimpse of Griffin's own Jonathan Anderson, you can find him at various NHRA events around Georgia and the rest of country.
Or just hang out on 19-41 until you see a red blur shoot past you—whichever comes first.
---
---
in print sports racing NHRA drag racing Jonathan Anderson issue 8.3
---