Legalizing Cannabis - why Some Georgia Families are Stirring the Pot

Aug 22, 2016 03:00PM, Published by Jake Gentry, Categories: Lifestyle, In Print, Community, Today
---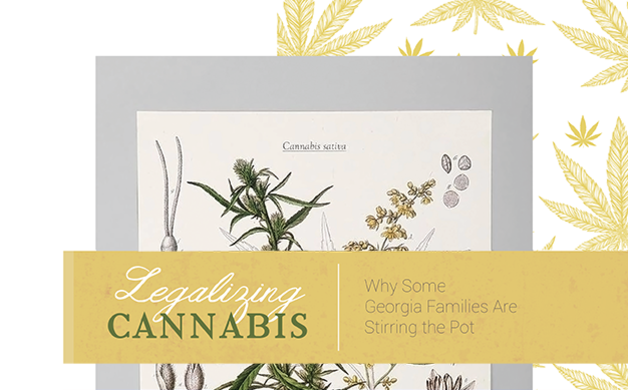 ---
---
By Laurie Cochrane

A slender girl in a black swimsuit, her bright blonde hair still damp from the pool, Ava Fowler runs up and hugs her mom, Sarabeth, around the waist. She squints up into the sun with bright blue eyes at her mom's question, "So, Ava, what's your favorite thing to do?"
"Riding horses," she responds, "and playing with my brother…and my chickens!"
Ava just turned 10. Recess is her favorite part of the school day. She has friends and sleepovers – all pretty routine for most 10-year-old girls. But Ava was diagnosed with epilepsy at age 3, so up until a few months ago, her routine involved multiple seizures per day. During a two-week hospital stay at Duke University, EEGs showed Ava was experiencing seizures in her brain, even when physical seizing wasn't evident. Doctors told her parents that there was a less than 5 percent chance she would ever outgrow her seizures. She would always experience side effects, either from the seizures or from the drugs used to suppress them. Ava was withdrawn and functioned poorly in school. She didn't play with other children; instead, she sat with the teachers at recess.
Sarabeth had heard about families enjoying near-miraculous results from the use of medical cannabis oil to treat seizures. Still, she hesitated to try it because of the dubious legal ground surrounding its use. "I'm a severe rule follower," she says. "Like, if I'm driving in an empty church parking lot in the middle of the night, and there are white arrows painted on the ground telling you which way to go, I'm following the white arrows. I'm such a rule-follower that I did not use the oil at all until we were legal, and then after we tried it my only regret was – why didn't we do this years ago?" 
That's the funny thing about Georgia's medical cannabis oil law. If you meet the qualifications, you can have the oil; you just can't get it. Georgia state law allows possession of the oil under strict guidelines, but cultivation, production, and distribution are not yet legal. Even in Colorado, where sale of the oil is legal, you must be a resident of the state to purchase it. For this reason, some Georgia families have left their homes and moved to Colorado in order to treat their children legally with medical cannabis oil. Other parents, those who can afford it, must travel to buy recreational marijuana and try to cook up the oil in a motel room before coming home, or risk bringing the plants across state lines. What's more, with homemade oil there is no way to test the THC or CBD levels (the "active ingredients" in cannabis oil) or test for any foreign substances that might be mixed in.
Like Sarabeth, most people can't imagine a situation that would find them conducting interstate "drug deals" or searching YouTube for instructional videos on cooking up an illegal, Schedule 1-classified narcotic in their kitchen. Yet, hundreds of parents find themselves in precisely that surreal position, because they are caregivers of children who are suffering. Understandably, fear causes the majority of people to stick with prescribed pharmaceuticals, despite the mounting empirical evidence of cannabis oil's effectiveness. This is particularly the case for those dealing with conditions not on the state registry of approved conditions, such as children with autism or veterans with PTSD. 
Before she began treating Ava with cannabis oil, Sarabeth, along with Dale Jackson (See "Meeting the Challenges of Autism" in KD Issue 8.1) had already been actively advocating the legalization of cannabis oil for medical use in Georgia. They began an organization called Hope United and have attended every session of the state legislature for the past two years. So, when possession of the oil became legal, Sarabeth decided they couldn't wait any longer to get their hands on it. Today, the only way to do that is by means of a sort of "underground railroad" between states like Colorado or California and Georgia. "Some people find what they need to make the oil," she explains, "and others have it 'magically' show up at their house."
Sarabeth is convinced the resulting freedom that children like Ava experience is well worth any risk. "We started on this strain of cannabis oil in December," she relates. "Two months ago we had a 72-hour EEG, and it was our first-ever clear EEG. No seizure activity whatsoever. Our neurologist had been against the oil and wouldn't sign for it. Now we've had such amazing results that she approved weaning Ava off all seizure medications." Sarabeth has told her story many times, but she still has trouble fighting back the emotion as she relates, "It's a hard thing to explain that I met my child for the first time at 9 years old. She was in such a fog. But she has a personality now – just a regular kid." 
Sarabeth and Dale willingly spend much of their time educating others and trying to overcome years of stigmatization of cannabis. They would like to see people begin viewing cannabis oil legalization, not as a social issue, but as a health issue. Dale believes that information and education are key: "Most people start out thinking that we're literally smoking a joint and blowing it in our kid's face," says Dale. "That's our starting point, and all it takes is a five-minute conversation to get past that." Sarabeth adds, "And meeting our kids who aren't high. Just seeing that we're rational, professional adults." 
Hope United is now working toward in-state cultivation, production, and lab testing of medical cannabis oil. House Bill 722 as originally introduced would have legalized in-state medical marijuana cultivation for two to six licensed producers. But the cultivation provision of HB 722 was removed in committee hearings. HB 722 passed the house and moved to the Senate with the modifications, but was killed by Senator Renee Unterman (R – Sugar Hill/Buford), chair of the Senate Health & Human Services Committee and full-time insurance company executive, who denied the bill a hearing. The bill was revamped and received a favorable vote in the House, and returned to the Senate for a final vote on the last day of session on March 25, 2016. This version, however, presented cannabis oil advocates with a tough choice: They would have to give up having autism added to the list of approved illnesses, or they would have to agree to lowering the legal THC level to 3 percent. Either of these options leave autistic children out in the cold, as the strain of cannabis oil effective for autism requires a higher THC level than those for seizure disorders. Under the current law, termed Haleigh's Hope Act (HB 1 – See sidebar "The Rules"), families moved back from Colorado because their kids needed a THC level over 3 percent.
It was close to midnight on the last day of session when a group of senators called Dale down to the floor. They wanted him to have the final say on how they voted on the amendment. Dale was told that he had 15 seconds to decide. Fighting back tears, Dale told the senators to vote "No." The Republican caucus then voted down the amendment in their private caucus meeting, and it never came up for a recorded vote that night on the floor. After the fact, Dale and the others found out that the amendment, authored by Unterman, provided for only severe cases of autism where extreme self-harm behaviors are present. If the amendment had passed, Dale's son Colin wouldn't have been covered anyway.
It's easy to see the motivation behind keeping full legalization at bay. A safe, effective medication that can replace prescription medications and potentially be produced in someone's kitchen is naturally a serious threat to Big Pharma. And legalizing cannabis would cost Georgia law enforcement millions of dollars in fines, confiscated property, and imprisonments. $$$
 The "upside" of current legislation is that families who need medical cannabis oil can usually afford it at $140-$180/month. Under the bill that nearly passed, the price per month would have gone up to between $600-$900. Once there's a legal means to obtain the oil, then it will be regulated and taxed, and there will be prosecution against anyone who operates outside those parameters. Also, unless the oil becomes FDA-approved, insurance won't cover the cost. So legislation is tricky. The current situation is just fine for those who don't mind forging ahead, despite the laws. But many parents won't risk it. If they're prosecuted and imprisoned, they might reason, who will take care of their ill child? 
In the meantime, Hope United is working with others in another state to create oil that is safe, lab tested, and effective for the citizens of Georgia. They are then helping those families learn how to access it. "Colin's Voice" is one of the strains that Dale consulted on to help his son and others with autism. Being of real assistance to other families who need solutions has become a huge part of Dale's and Sarabeth's lives. "About 9:30 last night," says Sarabeth, "I got a call from someone whose mother has Stage 4 breast cancer that has spread to her spine. I get calls every week. It's been a blessing to me to be able to lead them to get help." And, at the writing of this article, Ava has been completely off pharmaceuticals for 11 days, completely seizure-free. "I'm not afraid anymore," says Sarabeth. "I want other people to live the difference I'm living."
Haleigh's Hope Act - The Rules
You can't be prosecuted for possessing medical cannabis oil in Georgia if:
·      A licensed physician has approved use of the oil for one of eight qualifying illnesses: severe or end-stage cancer, ALS, multiple sclerosis, Parkinson's disease, or sickle cell disease; as well as seizure disorders, Crohn's disease and Mitochondrial disease.
·      You are registered with the Georgia Department of Public Health and have the registration card on your person to prove it.
·      You are also carrying a card that designates you as caregiver, if the patient is under 18.
·      The oil contains no more than 5% THC and CBD in equal or greater concentration than the THC.
·      The oil is in a pharmaceutical container with the THC level clearly stated.
·      You are found in possession of no more than 20 fluid ounces of the oil.
Cannabis Fact and Fiction
FICTION: Kids are getting high on cannabis oil.
FACT: Ironically, it was Ava's rescue seizure medication, Klonopin (clonazepam), that made her high. When her school had to administer it, they'd call Sarabeth to come pick up Ava early, since any focusing was over.
FICTION: Advocates for cannabis oil legalization are hippie stoners.
FACT: Some of the strongest advocates for legalization of medical cannabis oil would identify themselves as political and religious conservative professionals.
 FICTION: Cannabis has always been classified as a dangerous narcotic.
FACT: Cannabis was widely used in over-the-counter medicines until the Mexican Revolution in 1910, when the term "marijuana" and its recreational use entered the U.S. with Mexican immigrants. Marijuana then became closely linked with fear and prejudice. In 1970, marijuana was defined in federal law, the Controlled Substances Act, as a Schedule 1 drug – defined as drugs with no currently accepted medical use and a high potential for abuse. (Other Schedule 1 drugs include heroin, LSD and "ecstasy.") In 1986, the Anti-Drug Abuse Act required life sentences without parole for repeat drug offenders and provided for the death penalty for "drug kingpins."
 FICTION: Prescription opiates are safer than cannabis.
FACT: According to the CDC, overdose deaths involving prescription opioids have quadrupled since 1999. In 2014, almost 2 million Americans abused or were dependent on prescription opioids. There has never been a confirmed case of a person dying from ingesting or smoking too much cannabis.
---
---
Cannabis Legalization Cannabis legalization Autism hope united Cannabis oil Georgia cannabis law
---