2016 Fiction Contest Second Place - Patchwork Heart by Tiffani Long

Sep 19, 2016 12:27PM, Published by Jake Gentry, Categories: Arts+Entertainment, In Print, Today
---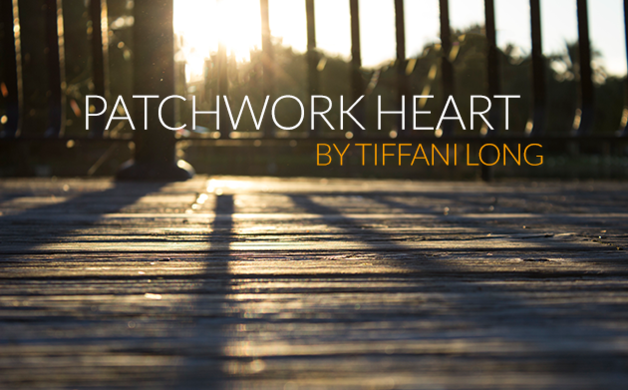 ---
---
In July of 2015, we announced our second fiction contest. Out of dozens of entries, we selected the following winners. Read the winning stories in Kitchen Drawer throughout 2016.
First Place: "Swinging" by Kaylee Tuggle Matheny
Second Place: "Patchwork Heart" by Tiffani Long
Third Place: "Zero Visibility" by Michael Downing
Fourth Place: "The Last Hunt" by Lewis Brewer
Patchwork Heart

By: Tiffani Long
My name is Clair Ann. "Clair" 'cause Mama loves the Clairol hair color that comes in a box at the drugstore, and "Ann" because that's her middle name—both names falling short of pretty, without even a curlicue "e" on the end. I'm 11 years old, though my soul feels much older. My mama's name is July Ann Rivers. She works in town at Mr. Murphy's office where she answers the phone and stacks and staples papers. I like Mr. Murphy, first name Sam, because he's patient and kind to us.
It's just been Mama and me since I was four, and my daddy went to the sweet by and by (that's what the church hymns call heaven). I don't have an excellent memory of him—more like a feeling of him. A warmth when I close my eyes to dream or hold his flannel shirt that Mama leaves on the end of the bed. When I hear strings being strummed on a guitar, my tummy always bubbles like when I drink root beer, and my ears always listen because one thing I do remember is Daddy played the guitar like he was born to do it.
But in all the time that has passed since he's been gone, Mama can't seem to find her wholeness. It's mostly her heart that's broken. She cries a lot, sometimes loud as thunder, sometimes soft as a whisper. Sometimes she goes to work, and other times she doesn't. I'm beginning to wonder if it's more than her heart that's broken.
Certain days, Mama was like a hamster running on a wheel, full of energy but not making progress. Once, I came home from school, and the house looked like someone had turned it upside down and shook it like a snow globe. The chair from the kitchen was beside the sink in the bathroom, the silverware tray was sitting on top of the bookshelf, and one wall was dripping fresh purple paint. I found Mama in her closet scrubbing the old wood floor.
"Mama?"
"Oh, Clair Ann, you're home! Thought the house could use a little spring cleaning and a fresh coat of paint."
"Mama, it's fall, and that sorta looks like MANY coats of paint."
She giggled like I was the one out of my mind.
"It's perfect, sweetie! I couldn't go on looking at those faded walls without one drop of color on them!"
She got up, squeezed me, and scurried out with the scent of Pine-Sol following her. Feeling helpless to change her mind, I was just happy to see a smile on her face and no tears on her cheeks.
Other times, she was plumb tuckered out. I knew that meant she'd stay in her bedroom all day, and I'd better just make my own breakfast, then go to school. In the afternoon, she'd still be there. So I'd make us some grits with extra butter, tap on her door, and say, "Mama, these grits are swimming in butter three inches deep. C'mon and get a bowl while they're hot." But even the medicinal power of buttered grits couldn't pull her out of that bedroom. She was a kitchen sponge soaking up her sorrow instead of wringing it out.
I don't know if what Mama feels has a name, or if I'm too scared to give it one, since naming something means you own it—like when a stray pup roams up in your yard. You ignore him, maybe even yell "Get on home, boy!" but before you even mean to you're calling him Buster and feeding him bologna.
Usually, just a day or so would pass before Mama would venture out of her room. She'd kiss me on my head and say, "Kiddo, you're the good kind." That's just how things go around here. Until now. Five days have passed since Mama's even peeked out of her room. I'm worried and need help.
I called my hero, my grandma, my Lulee.
"Great day in the morning!" she hollered. "I'm on my way!"
Waiting for her, I sat on the front porch steps and shut my eyes to say a heart-prayer over Mama. At church, I always hear "Ask and ye shall receive." So I set out to ask the good Lord if He could heal Mama's heart. I knew she couldn't have a brand new one, but maybe He'd patchwork the one she has. After all, Lulee makes quilts that are patchwork, and they're glorious. I figure if she can do that, surely the good Lord can do even better.
As I said "Amen," I saw a dirt cloud billowing down my driveway, which meant my Lulee in shining armor had arrived—except instead of coming on a white horse, she arrived in an Oldsmobile. She sat beside me. I exhaled and laid on her shoulder.
"You know what's wrong with Mama?"
"Well, honey, your Mama's had a long row to hoe in just a few short years. She's endured things no young mother should. I think she just feels swallowed up by her grief."
"Swallowed? You mean like that Sunday School story about Jonah?"
"Something like that, and Jonah's heart got better. Your Ma…"
"Lulee! That's just what I was praying before you got here! That Mama's heart would be better…like your quilts…but a patchwork heart!"
Choked up, she replied, "Just perfect!"
Back inside, Lulee went to Mama. I listened in, hoping her grandma magic would make Mama feel safe. My ears were straining so hard I didn't even hear Mr. Murphy walk in.
"Clair Ann," he whispered. Startled, I turned. We shared a look. With one step, he was squeezing me close. I cried for the 13th time; it didn't feel very lucky. "Lulee called me."
I nodded. "I guess I don't know how to help Mama anymore."
"Honey, we can't give your Mama what she really needs, though we wish we could. We can get her to someone who can, though."
"Who is that?"
He explained about the House of Hope—a place that specializes in women with broken hearts like Mama. They'd help her manage her heartache, help her eat, and help her learn to take care of herself again. She'd have to be away for a while and stay there at the Place for Broken Hearts.
My ears rang. "What…did…you…say?"
"I said she'd live there for a while, Clair, that's…"
Pushing away from him, I ran outside and climbed the willow tree. I knew my limitations. I knew I could only climb up 16 branches on this tree. I knew I could hold my breath for exactly 53 seconds. I knew I could never, ever eat rutabagas.
And I knew that I absolutely could not shoulder being away from Mama.
Could this place really do all that she needed?
After all, daughters know what side of the bed their mothers sleep on and how they take their coffee. They know what makes them smile and what makes them say "Go to your room." My heart ached like the dickens, but Mama needed to be whole, and maybe, hopefully, this could be it.
I went back to the house. Mama was sitting outside on the rickety wicker bench. She looked so weary—shoulders hunched over like every burden she ever had was stacked on her back. I knew right then, right down to my toes, that leaving was the right thing for her to do.
Lulee and Mr. Murphy left us alone.
"Guess I'll be away for a while," she said weakly. "Yes ma'am." My voice wobbled like Jell-O. "But you need this, Mama. I know it's been hard for you to shuffle between grieving, living, and taking care of me."
"Well, I haven't been doing a great job of that lately," she admitted.
"Oh, Mama. Y'know I'm half grown and can do most things myself," I said, trying to convince us both it was true.
"A girl cannot live on root beer and grits alone, Clair Ann." Mama said with a scratchy throat.
I half-smiled. "I'll have to disagree on that, but I promise we'll get through this."
The quiet hovered over us like a rain cloud. "I'm scared," Mama whispered.
I held her hand. "I've already prayed for God to patch up your heart."
"Clair Ann, I love you." That's all she said before she stood and walked toward Mr. Murphy's car. Being a true gentleman, he opened the door for her.
"Mama!" I jumped up, tears falling. "You're the good kind, kiddo!"
---
---
in print Fiction contest second place Tiffani Long Patchwork Heart
---