Issue 8.4 - Chicken Fights by Laurie Cochrane

Nov 01, 2016 03:48PM, Published by Jake Gentry, Categories: Lifestyle, In Print, Community, Today
---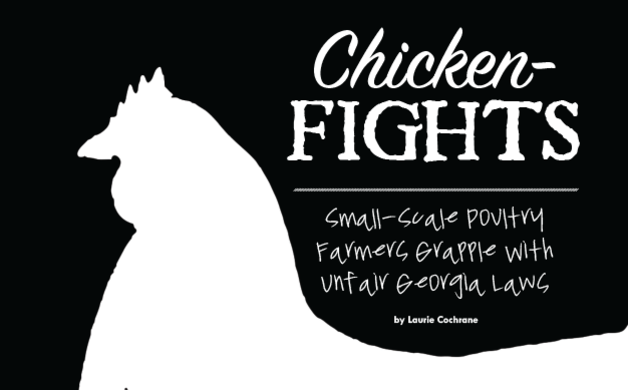 ---
---
By Laurie Cochrane
Kevin Campbell has to wait for just the right time of morning to open the doors of his mobile chicken tractor, which looks somewhat like a beat-up gypsy wagon hitched to a Massey Ferguson tractor. "If you let them out too early or shut them in too late," he says, "the predators can get them." In addition to the shelter of the wagon, Kevin's two Great Pyrenees dogs patrol the pastures at night to protect the brood from coyotes, foxes, hawks, owls, and armadillos. During the day, the birds are free to roam wherever they please – usually seeking shade under the wagon or under trees with Kevin's sheep or Jersey cows during the hottest part of the day. 
Kevin, his wife, parents, and seven children live and work together on The Good Shepherd Family Farm in McDonough, Georgia. It's the sort of farm that used to be common in the last century. Along with raising meat chickens, the Campbell family works together on their beautiful piece of land to raise dairy cows, sheep, eggs, organic vegetables, and more. It's also the sort of farm that one might expect to be supported by the legislation of an agricultural state like Georgia. However, aside from the mandate that Kevin's grass- and organic-fed Jersey raw milk must be labeled for pet consumption only (that's another article), the state of Georgia is also host to unique state laws that, when combined with federal law, serve to elbow out small-scale farmers who want to grow the premium poultry consumers desire.
For decades, Georgia has been far and away the nation's largest producer of meat chickens (broilers). According to the UGA Center for Agribusiness and Economic Development Farm Gate Value Report, broilers brought in $4.5 billion, or 32.5 percent, of total agricultural commodities in the state last year – that's over four-and-a-half times the cash brought in by beef, the second-highest single commodity.
But, according to the National Chicken Council, fewer than 1 percent of all broilers in the U.S. are raised by independent farmers. The rest are owned or under contract to large chicken production and processing companies. This evolution of the chicken industry is necessary to meet America's insatiable appetite for chicken. However, the mega farmers can't, at the same time, meet growing consumer demand for pasture-raised, antibiotic-free poultry like Kevin's.
The tangle of laws can be headache producing, but we'll try to break it down here: First, federal law, under the Poultry Products Inspection Act (PPIA), requires that poultry to be sold as human food be slaughtered and processed in a facility with "continuous" (bird-by-bird) state or federal inspection. The USDA allows farmers to process up to 20,000 chickens per year on their own farms, without mandatory state or federal inspection.
However, in 2003, the state of Georgia announced its intention to establish its own poultry inspection program for the processing and sale of poultry products within the state. As part of that process, the state deleted, among other things, the federal inspection exemption that allows the processing of 1,000 to 20,000 birds annually. The state did not delete the exemption that covers processing and sale of fewer than 1,000 birds per year. So, unless you process fewer than 1,000 birds per year, each bird has to be inspected in an "approved" facility.
But then the state took no further steps to build the inspection facilities that small-scale poultry farmers who annually produce between 1,000 and 20,000 birds would need in order to meet the Georgia Department of Agriculture's (GDA) own requirements. Additionally, in November of 2011, the GDA released a guideline clarifying the process and requirements for a registered farm to process 1,000 birds or less on-premise. The guideline outlines the type of facility a farmer would need to build to meet these processing requirements. Such a facility would cost approximately $500,000 – well out of reach of most small farmers, especially with the tight restrictions on how many birds they can process and sell.
 Alternatively, the GDA recommends such farmers apply for a grant of federal (USDA) inspection. But, remember, the USDA considers producers of 20,000 or less birds to be exempt.
In addition, the Georgia Food Act (which was passed into law by the state legislature in 2008) requires that all food sold to food sales and service establishments (e.g., restaurants or retail markets) in Georgia must be from an "approved source," which is defined as one that is subject to inspection. However, this law does not specify what type of inspection is required. It does specify that sales must occur direct to consumer (on-farm or at farmers markets) in order to avoid the "approved source" requirement. A mobile meat license is required to sell frozen chickens at farmers markets.
 So, small, on-farm processers face a two-fold legal problem: First, they can only process 1,000 birds or fewer per year, and even then must have their own processing facility state-approved. Second, even if the state restores the federal exemption, farmers would still face a requirement for inspection of some sort before they could legally sell to food sales and service establishments.
The result is that small-scale farmers need to decide whether to "play chicken" with Georgia laws and process on-farm anyway. Some farmers get around the legislation by having potential buyers "volunteer" to help with the processing – teaching them to do the slaughtering, then giving them an agreed-upon number of chickens as payment. Of course, this method tends to weed out all but the most die-hard organic chicken seekers. Alternately, customers can buy the live chicken and get the processing thrown in for free. 
In the midst of this rather hostile climate, the approach of many small farmers is to keep their products diversified and their enterprises small and nonthreatening. Although Kevin could sell more, he keeps his chicken harvests to about 100 birds at a time, totaling between 800 and 900 birds per year, while his main profit-generator is dairy. Although he's not looking to expand his own business, Kevin sees the current law as prohibitive to anyone who is. "They could easily raise the limit to 15,000," says Kevin. "It's not so bad for me," continues Kevin, "but it's really bad for someone who wants to make a major impact on farming."
Someone, for instance, like Chad Carlton of Carlton Farms in Rockmart, Georgia. Chad's is another multigenerational family farm, but this farmer is looking to make that major impact. Along with raising cattle, pigs, milk, eggs, turkeys, and more, Carlton Farms also offers school tours; has a corn maze, a pumpkin patch, and a website; has a delivery route; sells organic vegetable shares; and has chickens as a main source of income. Like Kevin, Chad has mobile chicken houses on pasture too – his look more like sleek passenger cars from a train, and he pulls them forward each day with an ATV. Chad's frustration with Georgia's current laws is intense. He has worked with Georgia Organics to try to move the broiler industry forward and allow pasture-fed chicken to be sustainably and legally produced by small and mid-sized farmers, but he recognizes the power of corporate farms. Still, farming to feed Georgia families with the highest-quality foods is what Chad does. It's who he is – whatever the legislation. "For some reason," he says, "I seem to forget all of the challenges and keep trying to make it work." 
---
---
Chicken farming Poultry farming georgia agriculture
---